| Procedure | Cost | Stay in Tunis |
| --- | --- | --- |
| breast lift | £1,800 | 4 nights / 5 days |
| Breast augmentation with implants + Breast lift | £2,500 | 4 nights / 5 days |
| Breast augmentation by lipofilling + Breast lift | £2,350 | 4 nights / 5 days |
Breast lift or Mastopexy is performed to correct sagging breasts resulting from aging, pregnancy or weight loss.
This procedure is intended to position the areola and nipple properly, lift and reposition the breast, and remove excess skin to maximize the aesthetics of the breasts and improving their symmetry.
Before your surgery
– Routine preoperative blood work will be performed as prescribed, along with a mammogram and a breast ultrasound.
– The anaesthesiologist will be seen in consultation no later than 24 hours before the operation.
– Avoid taking medications containing aspirin within 10 days prior to your surgery.
– Stop smoking at least one month prior to surgery and until the incision has healed (usually 15 days following the procedure).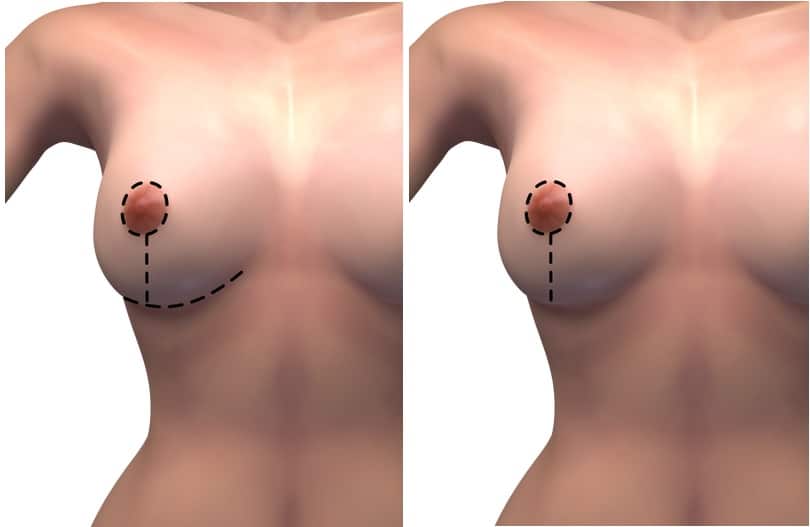 Day of Surgery
A Breast lift usually takes between 1.5 and 3 hours depending on the surgery and is performed under general anaesthesia. A hospital stay of 1 to 2 nights is required.
The procedure involves tightening and remodelling of the skin and breast tissue to help lift and shape the breasts and enhance body contours. Excess skin is removed to tighten the skin envelope. Mastopexy will give your breasts a more lifted, firmer appearance. The areola and nipple are repositioned to a more youthful position.
The scars left after surgery are caused by sutures around the edges of the incisions.
In severe breast sagging (ptosis), the scar looks like an inverted-T scar (anchor lift).
The inverted-T scar is made up of 3 parts: a periareolar scar around the perimeter of the nipple; a vertical scar from the lower pole of the areola to the submammary crease; and a horizontal scar (proportional to the patient's ptosis) that lies in the natural fold of the breast.
After your surgery

Your breasts will be held firmly in place after the surgery.
Pain is usually mild after breast surgery; routine pain relievers should be enough to relieve any discomfort.
– Your breasts will be swollen and bruised and you might have difficulty lifting the arms.
– Your surgeon will change your initial dressing one to two days after surgery, replacing it with a lighter, softer compression garment, moulding the shape of your body.
– You should wear a supportive bra around-the-clock for one month post-surgery.
– You should be able to get back to work and your regular activities about 7-10 days following your operation, and you'll need to avoid strenuous activities for 1 to 2 months*.
– The scars will fade over time. To reduce their appearance, make sure you follow up your post-op instructions closely.
– This operation does not alter the sensitivity or natural shape of your breasts, which can still be affected by hormone changes or weight fluctuations.
Possible complications

During the consultation, the anaesthesiologist will carefully explain the potential anaesthesia risks. Please note that anaesthesia can cause reactions in the body that are sometimes unpredictable and difficult to control. However, the likelihood of these complications is greatly reduced in the hands of a competent anaesthesiologist used to perform surgery.
Keep in mind that anaesthetic products, techniques and methods have improved enormously over the last two decades.
With regard to the surgery: choosing a qualified and competent plastic surgeon that performs this type of surgery regularly limits the risk of complications, but does not eliminate them.
However, when performed according to procedure in an approved surgical setting, breast lift complications are rare. Most of the procedures go smoothly and patients are very satisfied with the way the procedure turns out.
– Infection, requiring antibiotics or surgical drainage.
– Haematoma, requiring drainage.
– Delayed healing, lengthening recovery time.
– Skin necrosis, delaying healing: very limited with new technics, significantly higher risks for smokers.
– Partial loss of sensation, especially in the nipple, can sometimes persist, usually returning to normal within 6 to 18 months.
– Hypertrophic or keloid scarring can occur, affecting the aesthetic result and requiring long local treatments.
*Disclaimer: Results may vary from one person to another depending on the patient's body shape.