Stomach Liposuction Tunisia: what is belly liposculpture?
Stomach liposuction, also known as liposuction or liposculpture, is a plastic surgery operation on the body that focuses on the abdominal area. The aim is to remove fat deposits from the abdomen in order to reduce swelling and improve the contours of the waist.
Fat deposits in the abdomen can have different origins: age, pregnancy, heredity, repeated dieting. Liposculpture of the abdomen helps to get rid of these fat deposits, especially if sport and dieting do not succeed.
People who opt for abdominal liposuction tend to obtain a flatter abdomen that is better proportioned to their figure.
It should be noted that stomach liposuction is not recommended in cases of obesity, as it is not sufficiently effective against large volumes of fat. In fact, abdominal liposuction mainly concerns patients with excess fat in the belly, without a significant excess of skin.
How much does a stomach liposuction cost in Tunisia?
Aesthetic surgeries are not normally covered by health insurance. However, the price of plastic surgery in Tunisia is very affordable. Payment plans are also available. Many people consider plastic surgery not as an expense, but as a permanent investment in their appearance.
To enquire about the price of stomach liposuction in Tunisia, contact us by phone or email or by completing the quotation request form.
Please note that prices may vary depending on the surgeries to be performed. Your counsellor will give you an estimation of the price of a stomach liposuction in Tunisia while waiting to establish your personal medical file.
Find the price of a stomach liposuction in Tunisia and all other aesthetic surgeries in Tunisia here.
Tummy tuck Tunisia: what you need to know before you go ahead
The first step is the pre-operative check-up. The surgeon asks you questions about your general health and assesses your stomach. He will then discuss with you the risks, contraindications, recovery time and the cost of the operation.
How is stomach liposuction performed in Tunisia?
The anaesthesia can be local or general, depending on the preferences of the surgeon and the patient but also on the amount of fat to be aspirated. It lasts between 30 minutes and 2 hours and rarely requires an overnight stay in hospital.
Stomach liposuction is performed through tiny and discreet incisions (to avoid visible scars). Very fine cannulas with rounded ends are then inserted. A controlled back and forth movement of the cannulas releases the excess fat, which is then sucked out of the body using a syringe attached to the cannula.
Surgical follow-up of abdominal liposuction surgery in Tunisia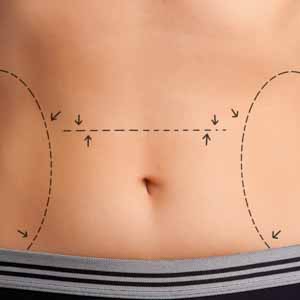 1- The pains are minor and simple analgesics are able to calm them down.
2 – There is usually an oedema (swelling) and bruises on the stomach, which disappear after a few weeks.
3- A compressive bandage should be worn over the operated area for 24 hours. This aims to reduce swelling and help the skin to heal slowly. An adapted compression panty will have to be worn for 2 to 4 weeks following the procedure (except in the shower).
4- You can return to regular activity soon enough (generally within 48 hours after the operation). Sports activities can be resumed after a month.
5- It is recommended to avoid carrying heavy weights and doing cardio for some time. You will need to consult your doctor before resuming such activities.
6- It should be noted that some fat deposits may reappear up to a year after the procedure (usually on other areas of the body). It is therefore strongly recommended that you keep an eye on your diet and exercise regularly during the first year following the operation.
Possible complications
Anaesthesia: during the consultation, the anaesthetist will inform the patient himself of the anaesthetic risks. The fact of having recourse to a perfectly competent Anaesthetist, practising in a truly surgical context (recovery room, possibility of resuscitation) means that the risks incurred have become statistically very low.
Indeed, it is important to know that techniques, anaesthetic products and monitoring methods have made immense progress over the last thirty years, offering optimal safety, especially when the operation is carried out outside the emergency room and in a healthy person.
As far as the surgical act is concerned: by choosing a qualified and competent Plastic Surgeon, trained for this type of intervention, you limit these risks as much as possible, without however completely eliminating them.
The real complications are exceptional after a quality liposuction: a great rigour in the choice of the indication and the surgical procedure must ensure in practice an effective and real prevention.
To be complete, we must however mention, despite their usual rarity :
Thrombo-embolic accidents: wearing anti-thrombosis stockings, early lifting and a possible anti-coagulant treatment help to reduce this risk.
Bleeding is rarely serious, unless there is an associated coagulation disorder or bleeding-promoting drugs are taken.
Haematoma and lymphatic effusion occur exceptionally during properly performed liposuction.
Similarly, localized skin necrosis, which lengthens the healing time and can leave scars, should no longer be observed.
Infection, which is in fact extremely rare in this type of so-called "closed" surgery, can be prevented by prescribing prophylactic antibiotic treatment.
Alterations in sensitivity can sometimes persist in the treated areas, and usually return to normal within 3 to 12 months.
*Disclaimer: results may vary from one person to another depending on the morphology of the patients.