Hip Liposuction Tunisia: What is hip lipoaspiration?
Hip liposuction in Tunisia, also known as hip lipoaspiration, is a plastic surgery procedure widely practiced in Tunisia. Its objective is to remove excess fat from the hips, especially from the flanks. Hip liposuction targets fat deposits on the hips. It helps reshape and reshape the contours of the hips to achieve a more attractive and feminine appearance. It is the ideal solution when diets and sports activities prove ineffective.
Hip liposuction in Tunisia is often combined with belly liposuction. This has the effect of further harmonising the body. Liposuction of the thighs can also be considered in some cases.  One of the advantages of hip liposuction is that it can give excellent results, regardless of the quality of the skin operated on.
How much does hip liposuction cost in Tunisia?
The price of hip liposuction in Tunisia is an important factor for some people. However, the quality of the liposuction is more important than its cost. If the ultimate goal of liposuction is to have a happy patient, then the expertise and experience of the plastic surgeon is probably more important than finding the cheapest hip liposuction surgeon. The price of liposuction is important, but it is not the most important factor when considering lipo surgery.
The total cost of hip liposuction in Tunisia is an all-inclusive package that includes the cost of the Operating Room, nursing staff, post-operative compression panty, hotel stay and transfers.
How long does it take to see the final result of a hip liposuction?
Hip liposuction in Tunisia immediately removes unwanted localized fat from this area of the body, but the results of liposuction are not necessarily immediately visible. A little patience is needed after your surgery, as your body needs time to heal from liposuction.
Generally, it can take up to a full year after surgery before you notice the results of the final liposuction. The time it takes to see results varies from patient to patient. Some people see dramatic improvement three to six months after surgery. Some people see the final result at that time, only to find that after a full year they see even more results. As soon as the oedemas are eliminated, you will start to notice results
Maintain your hip liposuction results in Tunisia
Although fat cells have been removed during hip liposuction, surgery is not a permanent method of weight loss. The remaining fat cells may grow if you gain weight later, undoing the results of the procedure. It is generally recommended that you stick to a healthy diet and exercise routine after your surgery to help you get the most out of your surgery.
Your surgeon can give you specific advice on diet and exercise if you need further guidance. Generally, eating fewer calories, exercising regularly and drinking plenty of water will help you enjoy the results of liposuction for many years to come.
As you get older, it may come to the point that you will need additional surgery to maintain your results. While liposuction removes unwanted excess fat, it does not get rid of excess skin. At some point, certain parts of your body may develop flabby, sagging skin. At that point, you may want to consider a procedure such as a thigh, buttock or tummy lift to help improve your skin tone and restore your shape. For some people, combining hip liposuction in Tunisia with a love handles liposuction in Tunisia or another type of facelift at the beginning is the option that allows them to obtain the best results.
Working with a certified plastic surgeon with extensive experience in liposuction is a must if you want to get the best possible results from your surgery. To find out more about hip liposuction in Tunisia and to see the right option for you, call + 33 (0)1 87 64 13 99 to contact one of our medical advisors. Ask for a free quote and if you would like before and after photos.
Hip Liposuction in Tunisia: what you need to know before you go ahead
The first step is the pre-operative check-up. The surgeon asks you questions about your general state of health and carries out a morphological examination of your hips in order to determine the areas concerned and the degree of skin elasticity in these places. This examination also allows the surgeon to determine the appropriate technique to treat the problem. He will then give his opinion and discuss with you the risks, recovery time and cost of the procedure.
How is hip liposuction performed in Tunisia?
Hip liposuction is a surgical procedure that is usually performed under general anaesthesia, but it is sometimes performed under local anaesthesia (if small areas are to be treated). It lasts between 1h30 and 2 hours and usually requires an overnight stay at the clinic.
The surgeon begins by marking on the skin the areas to be operated on. Thus, with the help of a marker, he draws several lines corresponding to the areas that will be aspirated and emptied of these fatty lumps.
Several incisions are then made in order to introduce the fine cannulas (3 to 4mm) which will be responsible for aspirating the fat tissue to be removed. The incisions are tiny and discreet in order to avoid future visible scars, and the cannulas have a rounded edge so that they are not traumatic for my skin. The suction procedure is done gently to ensure a homogeneous result.
Hip liposuction is a cosmetic surgery in Tunisia for both women and men. This procedure can be done alone or combined with other procedures such as knee, buttock, tummy, horse breech or chin liposuction or included in a complete liposuction which consists of sucking all the fat located in your body.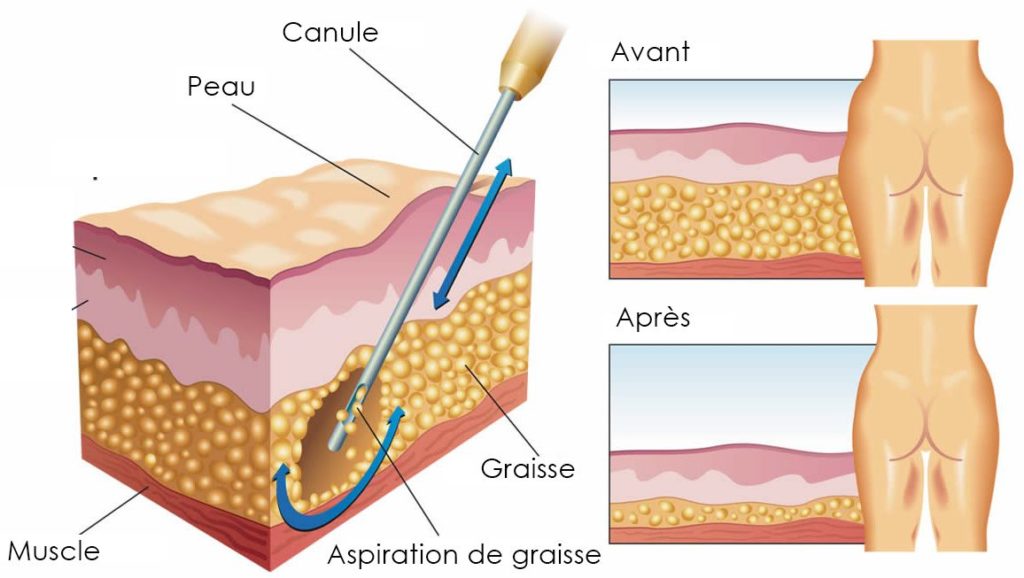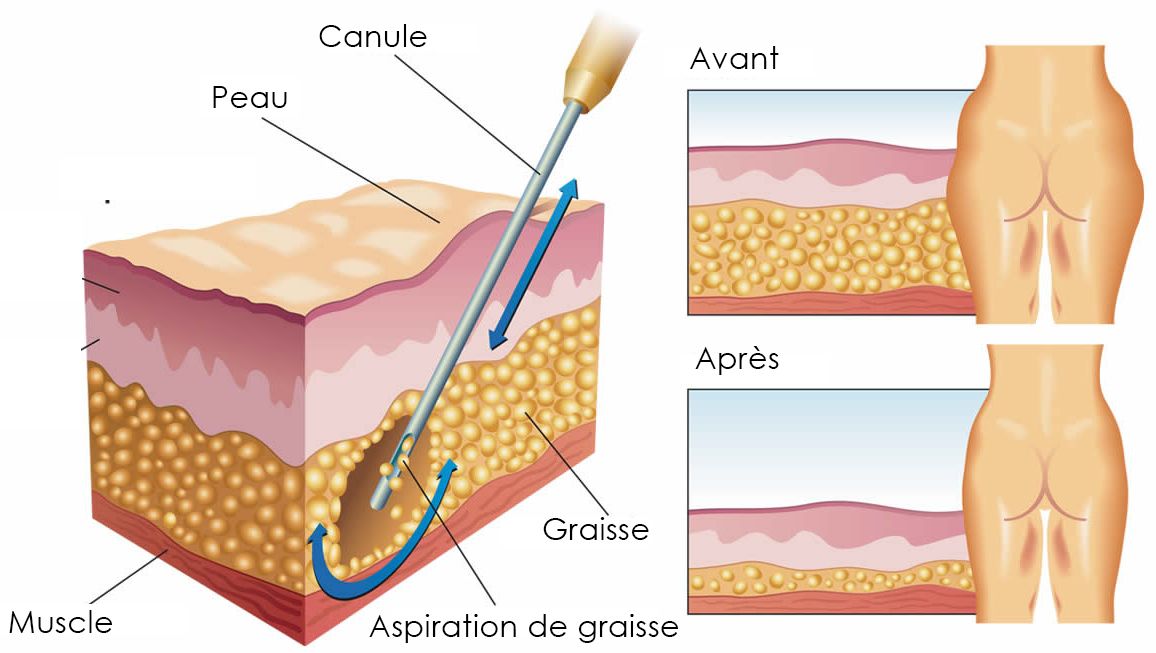 Hip Liposuction Surgical Follow-up in Tunisia
There is usually the appearance of oedema (swelling) and bruises, which disappear after a few days.
The pain is mild and bearable, and simple painkillers are sufficient to calm it down.
A compression girdle (panty) should be worn for 10 to 15 days to limit the swelling and facilitate healing. This panty should be worn day and night, except in the shower.
Baths should be avoided during the first weeks. However, showers are authorised from the day after the operation.
You can return to work after 3 days. Sports activities can be resumed after 3 weeks.
The final results are generally visible after 3 months.
Possible complications
Anaesthesia: during the consultation, the anaesthetist will inform the patient himself of the anaesthetic risks. The fact of having recourse to a perfectly competent Anaesthetist, practising in a truly surgical context (recovery room, possibility of resuscitation) means that the risks incurred have become statistically very low.
Indeed, it is important to know that techniques, anaesthetic products and monitoring methods have made immense progress over the last thirty years, offering optimal safety, especially when the operation is carried out outside the emergency room and in a healthy person.
As far as the surgical procedure is concerned: by choosing a qualified and competent Plastic Surgeon, trained for this type of intervention, you limit these risks as much as possible, without however completely eliminating them.
The real complications are exceptional after a quality liposuction: a great rigour in the choice of the indication and the surgical procedure must ensure in practice an effective and real prevention.
To be complete, we must however mention, despite their usual rarity :
– Thrombo-embolic accidents: wearing anti-thrombosis stockings, early lifting and a possible anti-coagulant treatment help to reduce this risk.
– Bleeding is rarely serious, unless there is an associated coagulation disorder or bleeding-promoting drugs are taken.
– Haematoma and lymphatic effusion occur exceptionally during properly performed liposuction.
– Similarly, localized skin necrosis, which lengthens the healing time and can leave scars, should no longer be observed.
– Infection, which is in fact extremely rare in this type of so-called "closed" surgery, can be prevented by prescribing prophylactic antibiotic treatment.
– Alterations in sensitivity can sometimes persist in the treated areas, and usually return to normal within 3 to 12 months.
*Disclaimer: results may vary from one person to another depending on the morphology of the patients.