What are dental implants?
A dental implant is used to replace a damaged or missing tooth. An artificial root (a titanium screw) is inserted into the jaw bone and serves as a support for fixing a crown. Dental implant are nowadays a reliable technique, with standardized protocols used for over 20 years.
Titanium is a material compatible with the human body: after a few weeks, bone cells naturally fuse to the implant. Titanium is also mechanically very resistant and well adapted to the pressure caused by mastication.
Can implants replace one or more missing teeth?
If you are missing one tooth, a dental implant is the optimal sustainable solution for your case.  And if you have two or more missing teeth, it is not necessarily for placing a dental  implant for each missing tooth. For example, two implants can fix three or four consecutive missing teeth by using a fixed bridge. However, the dentist must offer you all possible treatments so that you can choose according to your case and your budget.
How long dental implants last?
Dental implants have an unlimited lifespan, this artificial root made of titanium  fuses with the jaw bone in a process called ossification, and it lasts often for the rest of your life, but this durability over time depends on a number of factors and the most important one is the patient's oral hygiene.
The success of dental implants depends not only on the procedure itself, nor on the surgical practice performed, but mainly on the behaviour of the patient. To make it last longer, the patient should respect the regularity of dentist control visits and maintain a good oral hygiene.
Before you start the procedure of dental implant :
After a medical examination and providing a Panoramic Dental X-ray (or CT scan), the dentist decides whether you are a good candidate for dental implants. Teeth and gums' care  are carried out if you have any gum or bone pathologies.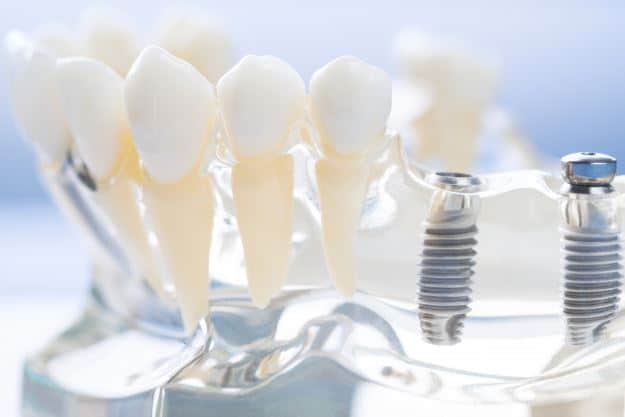 Dental implant procedure
After performing local anesthesia, the dentist incises the gum and starts making a hole in the jawbone using a series of drills until reaching the diameter recommanded to insert the dental implant.
How much does a dental implant cost?
The price of a dental implant vary according to the materials used and the operating techniques, and to the number of teeth to replace. Please contact us and get a FREE dental consultation.