What is tooth whitening in Tunisia?
Tooth whitening is a technique of cosmetic dentistry which aims at correcting the shade of the teeth and treating discoloration and yellowing of teeth, in order to make them regain their original shade.
The teeth whitening is an effective and fast technique to find white teeth, and a bright and radiant smile. It should be noted that this technique only concerns natural teeth.
The results can be visible from the first session. However, sometimes the dentist may decide that additional sessions are necessary to deepen the whitening process and achieve a better result.
Although long-lasting, the results are not permanent. Teeth lose their luster after two or three years. Good oral and food hygiene will help make the results last and prevent teeth from regaining the discoloration that preceded the whitening.
It is important to note that tooth whitening performed by a dental surgeon does not present any danger to the health of your teeth.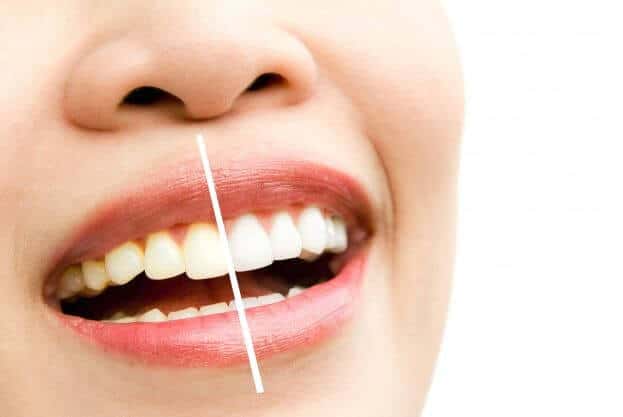 Tooth whitening in Tunisia: what you need to know before you start
The first step is the oral check-up. The dental surgeon evaluates your teeth to verify that whitening is possible (healthy and live teeth) and that there are no contraindications (no cavities or infections).
He must also tell you the cost of teeth whitening, the duration of the sessions and the potential risks.
A scaling will also have to be done before going on to whitening.
How are dental whitening sessions in Tunisia?
Tooth whitening is done in a dental office. The number of sessions depends on the degree of yellowing of the teeth. An interval of ten to fifteen days must be observed between sessions.
Tooth whitening is done in 3 steps:
– The protection of the gums. The surgeon does this with the help of a dam (which acts as a gum barrier).
– The application of the gel. The whitening is done using a gel with a high concentration of hydrogen peroxide.
– Penetration of the gel. The surgeon uses a lamp that emits rays of light so that the hydrogen peroxide penetrates the enamel layer and reaches the dentin.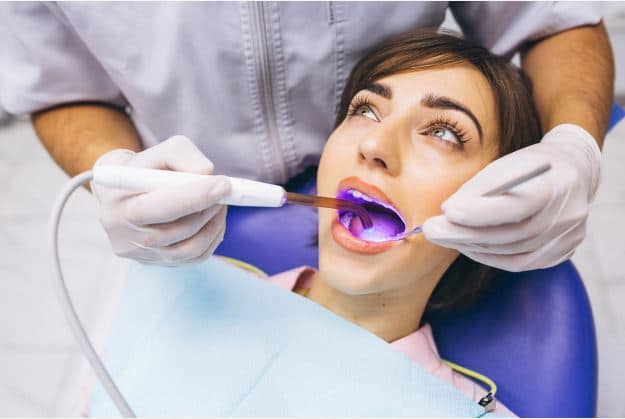 Tooth whitening procedure follow-up in Tunisia
The placement of dental veneers is a painless procedure. It does not cause swelling or bleeding.
It is recommended to maintain impeccable oral hygiene to optimize results. It is therefore necessary to brush your teeth three times a day and to have your teeth cleaned twice a year.
It is recommended to reduce consumption of products that contain dyes (such as tobacco, coffee, red wine, tea, curry, beets, etc.).
It is possible that particular sensitivity may occur in some patients. The surgeon will then prescribe an anti-sensitivity toothpaste, and your teeth will regain normal sensitivity after a few days.