| Procedure | Cost | Stay in Tunis |
| --- | --- | --- |
| A mini liposuction (double chin) | Check cost here | 4 nights / 5 days |
| Liposuction on an area such as the belly | Check cost here | 4 nights / 5 days |
| Liposuction on 3 or more areas | Check cost here | 4 nights / 5 days |
| Full liposuction (on 5 or more areas) | Check cost here | 4 nights / 5 days |
Liposuction, also known as Lipoplasty or Liposculpture, is the most frequently performed cosmetic procedure in Tunisia and around the world. It is a surgical technique designed to remove fat accumulation from specific areas of the body, using foam cannulas. Liposuction is not a treatment to cure obesity, but can improve body contour by effectively targeting specific areas that have not responded well to diet and exercise.
Liposuction is performed on one or more areas of the body: chin, arms, belly, love handles, back, thighs, hips, saddle bags, buttock, calves, ankles and knees.
Before your surgery
– Do not take aspirinor anti-inflammatory drugs 10 days prior to surgery.
– Patients taking the birth control pill should stop taking it one month prior to surgery.
– Stop smoking completely at least one month prior to surgery and until the incision has healed (usually 15 days following the procedure).  The same goes for electronic cigarettes.
Day of Surgery
The length of the procedure will vary with the amount of fat to be removed and the number of areas being treated. It can vary from 20 minutes to 3 hours. (1 to 2 hours on average).
The length of hospital stay depends on the amount of fat to be removed. It may require a short hospital stay, a few hours for liposuction of small areas (under local anaesthesia). Liposuction of larger areas (performed under general anaesthesia) will require a hospital stay of 1 to 2 days.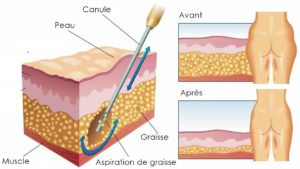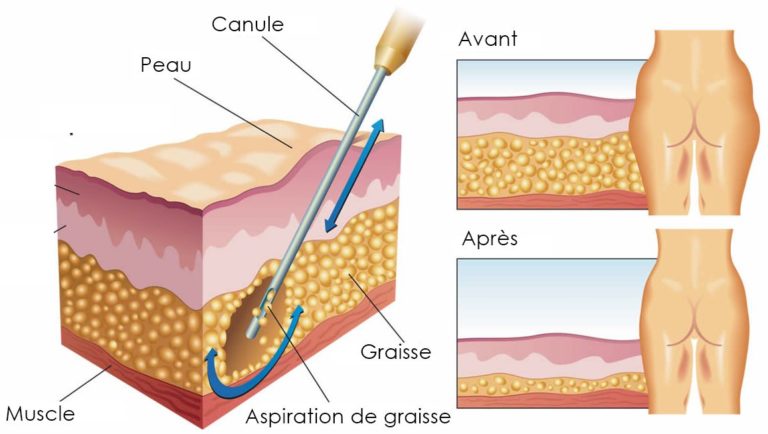 Using very thin cannulas (outside diameter of 5 mm or less), the surgeon removes excess fat in order to reshape the silhouette. The incisions are tiny and hidden in the natural folds, camouflaging the scars.
The amount of fat to be removed depends on the quality of the overlying skin, which is one of the factors determining the result.
Wearing a compression garment (using a specially designed girdle or elastic bandages) lessens post-procedural oedema. 
After your surgery
– Recovery time for liposuction is proportional to the amount of fat removed.
– You will likely experience postoperative bruising and swelling in the treated areas.
– Stop smoking until the incision has healed (usually 15 days following the procedure). The same goes for electronic cigarettes.
– Although pain can vary, the use of very fine liposuction cannulas has proved to minimize pain such as minor cramping. Pain is generally manageable with the right treatment.
– Do not expect to see any immediate results for the first 2 to 3 weeks due to postoperative swelling (oedema) in the treated area during the healing process.
– You will see liposuction results after the 3rd week, after the body worked to resolve the swelling. Normal skin retraction may take 3 to 6 months to occur on the new curves and silhouette.
– You can return to your normal level of activity 2-10 days after the operation, depending on the extent of the liposuction and the type of work.
– You will wear a girdle for one month following the procedure. Of course, you can remove it to take a shower or groom yourself and put it back again immediately afterwards.
– Showering is allowed the first week following the operation after consultation with your surgeon.
– Do not take a bath or swim for three weeks (until healing is complete).
– Avoid exercising for one month.
– Avoid sun exposure of the operated areas until the bruises have completely disappeared (between 2 and 3 weeks).
–  Lymphatic drainage can speed the disappearance of swelling and is practiced on the 5th day after surgery, at the earliest, by a qualified physiotherapist. This drainage is done 3 times a week for 2 weeks.
LPG Cellulite Treatment is a good complement to liposuction. It provides visible results and treats cellulite. We recommend 3 treatments/week for 4 weeks starting the 1st month after surgery.
Recent scientific studies have shown that fat tends to come back quickly after it being removed through liposuction, within a year after the procedure (especially the first 6 months). This fat tends to be redistributed to different parts of the body not affected by liposuction, especially the abdomen. For this reason, we highly recommend that you eat healthy and exercise regularly (40 minutes, 3 times a week) for the first year following the procedure.
Possible complications
– During the consultation, the anaesthesiologist will carefully explain the potential anaesthesia risks. The likelihood of these complications is greatly reduced in the hands of a competent anaesthesiologist experienced in a surgical context (recovery room, possibly resuscitation).
Techniques, anaesthetics and monitoring methods have enormously improved over the last thirty years, and are very safe, especially when the operation is performed in a nonemergency situation on a healthy person.
– With regards to the surgery: Choosing a qualified and competent plastic surgeon that performs this type of surgery regularly limits the risk of complications, but does not eliminate them.
Major complications associated with high-quality liposuction are rare: in practice, strict care in making sure the surgery is indicated and in performing the surgery should effectively prevent such complications.
– The following is a list of the most serious risks, which fortunately are rare:
Blood clots: wear anti-embolic stockings, get up early and take any blood thinners you may be prescribed.
Serious bleeding is very rare with liposuction. Exceptions may result from a clotting disorder or the use of blood-thinning medications.
Haematoma and Seroma are rare in a properly performed liposuction.
Localized Skin Necrosis, which lengthen the healing time and may leave scars, is also very rare.
Infection is a rare complication of this minimally invasive surgery and can be prevented with prophylactic antibiotic therapy.
Changes in sensitivity can persist in the treated areas, usually returning to normal within 3 to 12 months.
Disclaimer: Results may vary from one person to another, depending on the patient's body shape.