Hair transplantation is for both men and women and is a permanent solution in the fight against baldness.
Hair transplantation is a cosmetic surgery that uses your own hair, which is taken from the back of your neck and then transplanted to the thinning area. This hair will grow normally like any other hair. This procedure will give you natural and healthy hair.
The technique most commonly used for hair transplantation is called follicular unit extraction. This technique involves extracting the follicle directly from the scalp without leaving any scar, using a micro-punch 0.9 to 1.2 mm in diameter.
Day of Surgery
This procedure is performed under local anaesthesia and you will need to stay 2 nights in Tunis. The length of the procedure depends on how long it takes to harvest the grafts. It usually takes a total of 6 hours of surgery for about 1000 grafts.
Graft removal: The follicular units (1 to 3 hairs per unit) are extracted from the back of the neck, using small round punches with a diameter of about 0.9 mm.
Graft preparation: The doctor makes several small skin incisions of about 1 millimetre in width on the bald skin of your scalp.
Graft implantation: The doctor delicately implants the micrografts (previously stored in a frozen serum) one by one, in each incision with micro-clamps or an implanter device.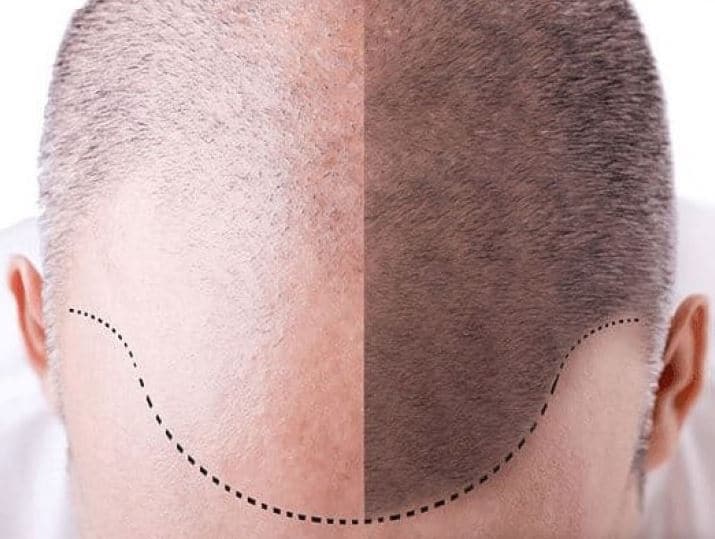 After your surgery
– Swelling in the grafted area may occur 24 hours following the procedure and will subside 3 or 4 days later
– Scabbing and redness should last only 5 days
– Do not wash your hair until 4 days after surgery
– You may resume normal activities after 4 to 5 days, but wait 3 weeks before resuming strenuous activity
Disclaimer: Results may vary from one person to another depending on the patient's body shape.