| Procedure | Cost | Stay in Tunis |
| --- | --- | --- |
| Gynaecomastia surgery | Check cost here | 4 nights / 5 days |
Gynaecomastia is the excessive growth of the male mammary gland. This leads to bilateral or unilateral hyperplasia. Generally, there is no known cause of this condition; however, in some cases, it might be caused by hormonal changes, the use of certain drugs or weight gain.
Breast enlargement in men, especially during puberty, can be an obvious source of psychological distress and negative feelings. This condition in teenagers can become a real complex. Gynaecomastia may also be painful.
The main objective of this corrective surgery is to restore normal anatomy with the following principles:
      •  Reducing breast size by removing glandular tissue (subcutaneous mastectomy), or liposuction for fatty forms.
Removal of excess skin: The reduction in gland size usually allows the skin to tighten. Better skin tightening is achieved with liposuction, but will be much better if the man is young and he has good quality skin (firm, elastic, without stretch marks).
Before your surgery
– A regular preoperative checkup is carried out as prescribed.
– The anaesthesiologist will be seen in consultation no later than 24 hours before the operation.
– Avoid taking medications containing aspirin within 10 days prior to your surgery.
– Stop smoking at least one month prior to surgery and until the incision has healed (usually 15 days following the procedure).
Day of Surgery
The procedure is performed under general anaesthesia and requires a hospital stay of 1 to 2 days. The length of the operation varies, depending on the surgeon and the technic used, from a few minutes for liposuction alone to 2 hours for more complex surgeries requiring a major reduction.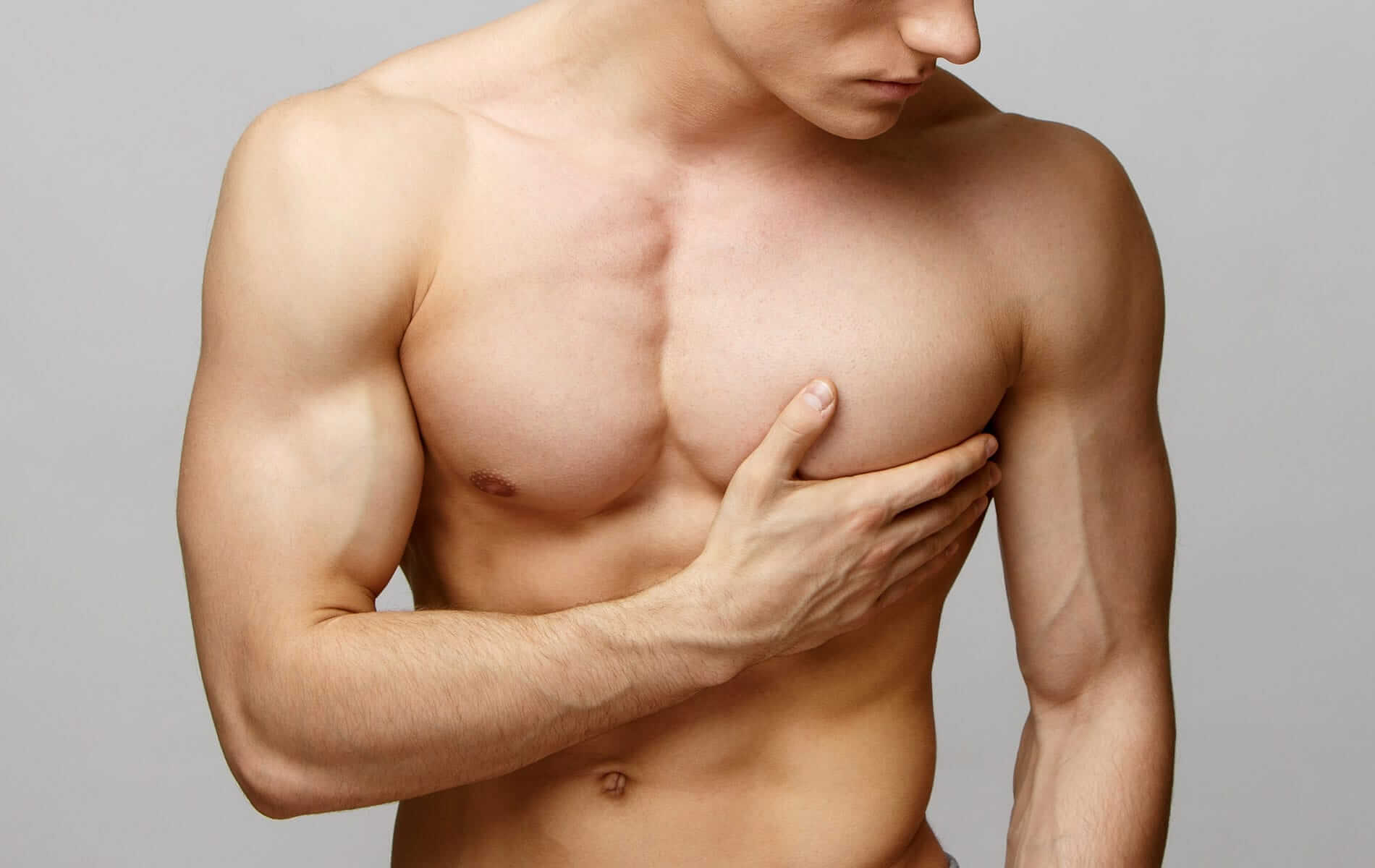 In a typical procedure, an incision is made at the lower edge of the areola. From this incision, the surgeon will remove the mammary gland (subcutaneous mastectomy) and excessfat. Often, in addition to this surgery, the surgeon can perform liposuction on the periphery of excessive glandular breast tissue in order to harmonize the overall shape and promote skin retraction.
Gynecomastia sometimes manifests only as fat deposition, and can be corrected by liposuction alone. The scars are then very short and can be located at a distance from the gynaecomastia, such as in the submammary or axillary areas.
If the gynaecomastia and excess skin are very important, the scar might extend and be more visible. Gynaecomastia surgery can position the scar around the areola (periareolar); horizontally and possibly along the edges of the areola.
At the end of the procedure, you will be fitted with a compression garment, often an elastic bandage.
After your surgery
You may experience some pain the first few days following surgery. Pain relievers will be prescribed for a few days, depending on the intensity of the pain.
– Patients who have liposuction alone may have local pain that feels like "intense aching". In the first few days, swelling, bruising and difficulty lifting the arms are expected.
– The first dressing is removed after a few days. It is then replaced with a lighter one. A compression dressing is often used at first and later replaced with a lighter dressing such as a bolero or compression vest, which you will need to wear around-the-clock for a while. This compression garment helps the skin tighten up and accelerates the healing process.
– You may return to work 5 to 21 days following the surgery.
– You should refrain from strenuous activity for the first 1 to 2 months*.
– With your smaller breast size reduction, you will be more comfortable physically, especially when getting dressed. Finally, the result is often beneficial psychologically, as gynaecomastia can negatively affect your masculine self-image.
Possible complications
– During the consultation, the anaesthesiologist will carefully explain the potential anaesthesia risks. Anaesthesia can often cause reactions in the body that are sometimes unpredictable, some of which are easier to control than others: the likelihood of these complications is greatly reduced in the hands of a competent anaesthesiologist working in a surgical setting.
It should be kept in mind that anaesthetic and monitoring methods have enormously improved over the last thirty years, and are very safe, especially when the operation is performed in a nonemergency situation on a healthy person.
With regard to the surgery: Choosing a qualified and competent plastic surgeon that performs this type of surgery regularly limits the risk of complications, but does not eliminate them.
Done according to procedure and in an approved surgical setting, most of the gynecomastia procedures go smoothly. The postoperative period usually goes smoothly and patients are very satisfied with the way the procedure turns out. However, complications can sometimes occur and include:
•    Postoperative bleeding and haematoma: requiring drainage.
•    Phlebitis and pulmonary embolism: walking regularly can minimize this risk.
•    Postoperative infection:  Antibiotics alone are sometimes enough, but drainage is often required.
•    Skin necrosis: This condition is treated with appropriate care and dressings, but will delay healing.
•   Pneumothorax: very rare; specific treatment is required.
•   Skin sensitivity disorders: changes in skin sensitivity are common during the first months and should subside over time.


*Disclaimer: Results may vary from one person to another depending on the patient's body shape.