Knee prosthesis Tunisia: what is the installation of knee prosthesis in Tunisia?
The knee prosthesis is an operation that serves as a treatment for osteoarthritis of the knee. It involves replacing the entire knee (total knee replacement) or part of the knee (partial knee replacement) with an implant. The part concerned by the prosthesis is generally the cartilage of the patella, the femur or the tibia.
It is a surgical procedure that allows the patient to regain normal joint mobility, free of pain and discomfort. This allows the patient to resume physical activities under the best conditions.
The installation of a knee prosthesis is a definitive and irreversible surgery. It is therefore only recommended if all other treatments for osteoarthritis fail and the patient still suffers from pain and stiffened joints.
This operation is generally intended for people over 60 years old, suffering from osteoarthritis affecting two or more compartments of the knee. However, younger people may be operated on if the doctor deems it necessary.
The most commonly used prostheses are made of ceramic, as they have a longer life span (15 to 20 years).
Cost of a knee prosthesis in Tunisia ?
Knee replacement in Tunisia: what you need to know before you start
The first step in this orthopedic surgery is the pre-operative assessment. It is a clinical and radiological assessment that must be complete. The surgeon must make sure that your health condition allows the installation of the prostheses. He must also inform you of the risks, recovery time and cost of the procedure.
How is knee surgery performed in Tunisia?
Knee replacement surgery is performed under general anesthesia. It lasts between 50 minutes and 2 hours and requires about 5 days of hospitalization.
The orthopedic surgeon begins by making an incision in the front part of the knee. The inner part of the patella is then pushed back (to facilitate access to the joint) and worn cartilage, inflammatory tissue and bony growths are removed.
The surgeon then proceeds to the prosthesis placement. This step must be done in a meticulous manner to ensure perfect stability and mobility of the knee. The incision is finally stitched with absorbable sutures.
Postoperative follow-up of the knee prosthesis in Tunisia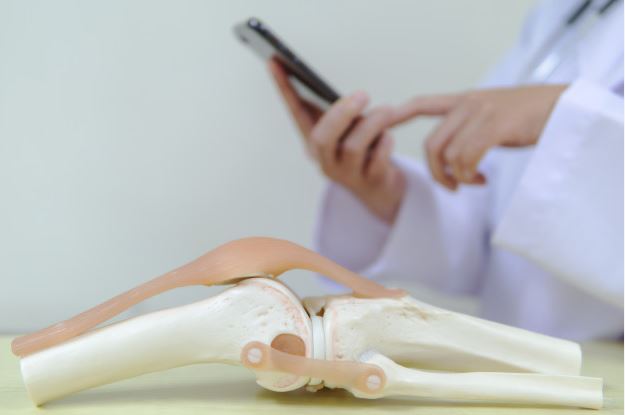 After surgery, a sterile dressing is put in place and must be kept on for 3 weeks. A splint is also put in place to help immobilize and protect your knee.
The physical therapist will visit you the day after the surgery to get you up and walking. You will be using crutches for the first few days, but you will usually be able to walk without them.
Once you are discharged from the clinic, you will have to undergo rehabilitation to gradually regain full mobility.
You can usually drive again after one month. You can return to work after about 2 months (depending on your profession). The resumption of sports activities can be considered after 3 months.