The skin on the inner thighs is thin and its elastic fibres are brittle. It can, therefore, wear out quickly due to natural aging or weight fluctuations and become a real inconvenience for some patients.
The problem of excess skin is often combined with the problem of excess fat on the inner thighs. The skin can become irritated from chafing and bothersome while walking.
For patients with sagging skin on the inner thighs, liposuction alone is not enough and only a tightening of this skin, called amedial thigh lift is likely to correct this defect.
Thigh lifting is intended to reduce fat infiltration using liposuction, but also to remove extra skin, retightening it and producing firmer skin.
Before your surgery
– A regular preoperative check-up is carried out as prescribed.
– The anaesthesiologist will be seen in consultation no later than 24 hours before the operation.
– Avoid taking medications containing aspirin within 10 days prior to your surgery.
– Stop smoking at least one month prior to surgery and until the incision has healed (usually 15 days following the procedure).
A medial thigh lift is generally performed under general or local anaesthesia.  Your surgeon and anaesthesiologist will recommend the best option for you.
The average length of hospital stay is 1 to 3 days, depending on the case, and the procedure takes 2 hours to perform on average.
The surgeon usually starts by performing a liposuction of the inner thigh, to remove excess fat. Unwanted fat deposits (steatomery) are sucked out using very fine cannulas (4mm) without damaging the delicate skin in this area, for a smooth, even result.
Following Liposuction, the surgeon makes incisions to remove excess skin and lift the thigh.
At the end of the procedure, either a bandage with an adhesive elastic band is applied or a liposuction compression garment is worn.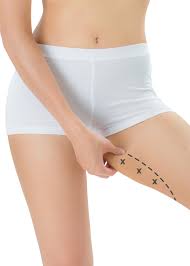 After your surgery
– Bruising and swelling may occur but will subside within about 10 to 20 days after thigh lift surgery.
– Pain (cramping, pulling, or shooting pains), is generally tolerable and manageable with appropriate treatment.
– In all cases, it is a somewhat disabling surgery because the operated areas are subject to tension and pulling when walking.
The scar is located deep in the groin crease where there is moisture, so, it takes longer to heal than in a dry area. During this healing period, you should avoid any sudden stretching movement, such as when sitting down.
– You will generally be able to return to work within 1 to 3 weeks post-surgery, depending on the type of work you do.
– Strenuous exercise is not permitted until at least 6 weeks after surgery.
– The scar will often appear pink during the first 3 months, before gradually fading, generally after the 3rd month. The scar will then continue to fade for 1 to 3 years.
– Sun exposure and UV radiation must be avoided for 3 months post-surgery.
Possible complications
– During the consultation, the anaesthesiologist will carefully explain the potential anaesthesia risks. The likelihood of these complications is greatly reduced in the hands of a competent anaesthesiologist experienced in plastic surgery.
Anaesthetic and monitoring methods have enormously improved over the last thirty years, and are very safe, especially when the operation is performed in a nonemergency situation on a healthy person.
With regard to the surgery: Choosing a qualified and competent plastic surgeon that performs this type of surgery regularly limits the risk of complications, but does not eliminate them.
Indeed, complications can occur after a medial thigh lift, which is one of the most delicate procedures in plastic and cosmetic surgery.
Possible thigh lift surgery risks include:
Blood clots: to prevent them, wear anti-embolism stockings, get up early, and take any blood thinners you may be prescribed.
Although very rare, a haematoma may occur and require drainage to prevent secondary deterioration of the aesthetic quality of the result.
Infection can be prevented by strict hygiene before and after the surgery until healing is complete.
Effusion may occur due to lymphatic leakage and fat seepage. Compression and rest are the best ways to prevent complications.
Delayed healing is possible
Skin necrosis: smokers are much more likely to develop necrosis after surgery, especially if smoking cessation guidelines were not followed.
Change in skin sensation: normal sensitivity is regained usually 6 to 12 months post-surgery.
Disclaimer: Results may vary from one person to another depending on the patient's body shape.